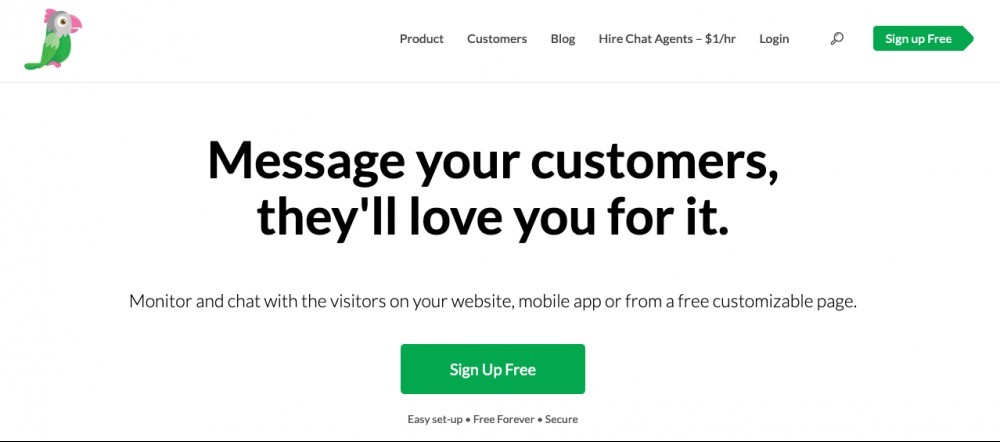 Most of my posts are about how to write your article, reviewing various online opportunities, providing tips and so-on. I love to provide this type of information but I also like to dabble in various techie endeavors. I happened across a neat feature that caught my eye. It's actually pretty cool and now I'd like to share it with you.
Today I'm going to show you how to Add Live Chat to a Website. This post will focus on one particular chat plugin for WordPress, although they offer integration with non-WordPress Sites too. It's called tawk.to and it offers some pretty cool features. Tawk.to is not the only option out there but I think they do offer you quite a bit for free and even more pay-for features, should you desire them.
Now, your need for this particular tool may vary but it can be used to provide quite a bit of value to your existing site and it's visitors. I wanted to share this option for those that might like to add live chat and/or this tool's other capabilities to their website(s).
Let's check it out…
THIS POST MAY CONTAIN AFFILIATE LINKS. PLEASE SEE MY AFFILIATE DISCLOSURE FOR MORE INFORMATION.
Do I Need Live Chat?
I can't really answer that for you. For most people, my instinct is to say "Probably not". It really depends on your site's focus and your overall intentions.
If your site is more about selling products and you are an affiliate marketer, there's probably not a lot of times when you need to interact with your client one-on-one. Now, let's sidestep just a hair and say you're still selling products but you're dropshipping or actually handling the fulfillment side of things yourself. In such a case, Live Chat may be of great use to your business. There's nothing better than talking with an actual person vs a bot, waiting on an email, etc. when it comes to addressing questions, concerns, complaints and so on.
Let's go a different way. Suppose your site is about gaming tips. You might have a forum setup but wouldn't it be nice to also have a way to engage your visitors in live chat?
The use-cases will vary and, in the end, you're really going to need to decide if it's good for your business, too much hassle, a waste of time, etc.
Don't forget, live chat isn't the only thing this tool provides. Let's see what else it has up its sleeve…
What Other Features Can I Take Advantage of Besides Chat?
Chat isn't the only thing this toolset offers. There are quite a few other features that you might like to use. Let's take a look at some of them here.
Free Features
There are several features you get off the bat for free and they're not limited or crippled in some way either…
Chat
I have to include this one because that's the main feature of this tool. That said, you're not required to actually use it. Still, it's nice to offer chat services on your site. Some things you can set up in the chat feature include whether or not to show estimated wait times, customizing the icon displayed, modifying colors, set different options for your agent's current status (i.e away, available, offline, etc.).
Another cool feature of the chat is it actually shows you what browser and device the person is using (i.e. Firefox on a Mac). I'm not sure if this particular information is super-useful but I think it's nice to know in situations where someone might be having trouble viewing something on your site and it turns out to be browser or platform related.
Ticketing System
Tawk.to has an integrated ticketing system built into it. You can assign your clients/chats to tickets, take notes, share with other agents (more on this later), and so on. It's a great way to track communications and issues with your clients.
Multi-User Capabilities
If you are larger than a one-man operation you can actually have multiple users on this platform. Now you can share the chat and ticketing responsibilities with others (partners, family, etc.). On top of that, you can chat internally with one another too!
I'm actually a one-man operation so I don't use this feature but it's nice to know.
Multi-Platform Support
You can manage this platform from a web browser but they also have dedicated apps too. Yes, there's an app for that! iOS and Android are supported. Now you can be at the beach and still chat with your clients online, all from your phone or tablet.
Reporting
Get statistics such as chat volume, missed chats, offline messages, average chat duration, user satisfaction and first response time.
All of this is free! Can you believe that? That's a lot of functionality for no cost.
Pay-For Features
Free isn't the greatest business model. That said, free does entice and, once that carrot is dangled in front of your target audience, the upsell is easier to deliver. That's the same with this platform. Still, you're not required to buy… Please note, pricing is valid as of the time of this writing. I can't promise they won't change between now and when you visit the site.
Remove Branding
Many people just don't like to see someone else's information on their site. I can understand this. If the tawk.to branding is too much for you, you can remove it for $12 per month.
Hire Live Agents
Yes, you read that right. You can actually hire their team to respond to your visitors and clients. They will actually answer your chats 24×7. These aren't chatbots but real people.
Think about it… If you're too busy to respond in a timely manner to your clients, this group can step in. Need someone that can speak another language? That's covered too. All of this starting at just $1 an hour!!! That's a pretty cool feature at an affordable price for sure.
Video, Voice, and Screensharing
Take it up a notch and offer voice and/or video chat with screen sharing. Now you can put a face out there, assist your clients with an issue, if need be, and just provide that much more of a personalized experience. This one will set you back $29 per month.
Coming Soon
This platform is always expanding. They don't stop with "This is good enough". They keep adding features to serve you, their client.
Real-Time Translation
Right now I use Google Translate but it's a pain to copy, paste, translate, type out a response, translate again, copy and paste the translation back into the chat window. Imagine having it do it for you on the fly! That's something coming down the pipeline.
Shopping Cart
Any page you have the chat widget on will also become a full-fledged shopping cart. This is great for those of you looking to build a storefront site. Now your shopping cart will be integrated with your chat solution. This is just one of the things that will make your site that much better and help reduce the number of plugins and so on that can slow down your site.
In-Chat Payments
Take payments immediately while chatting with your clients. Now, not only can you make arrangements with them but you can actually take the payment right there! This will be a great feature, once it becomes available.
As you can see, chat isn't the only thing this tool does. It does that and so much more with even more coming down the line. So far, I haven't found anything that's not to like about it.
OK, so now you know what tawk.to is and the features it provides. Let's see how we go about adding it to a site and getting it up and running…
How do I Add Live Chat to a Website?
You might think that adding tawk.to to your site will involve a lot of configuration and setup but, believe it or not, it's really really easy. Let's go through the steps…
Download, Install and Activate the tawk.to WordPress Plugin
Log into your site's WordPress dashboard and navigate to Plugins > Add New.
In the search field type in tawk.to and wait for the plugin to be displayed.
Click the Install Now button and wait for the plugin to be installed.
Click the Activate button to activate the plugin.
Setup an Account
Open a web browser and navigate to https://www.tawk.to.
Click on the Sign Up Free button.
Enter your name, email address and the password you'd like to use and click Signup for free.
Choose your language and click Next: Create Property.
Enter the site name and URL then click on Next: Team Members.
Add additional team members if you wish. You can always add them later too.
Click Next: Install Widget.
This page will provide you with the script to apply to each page you want the chat feature to appear on (great for non-WordPress sites) or download the plugin (but we already installed it in the previous section). You can even send this information to your web developer and have them take care of it.
Click Done.
Configure the Plugin with Your Account
Back on your site's dashboard, navigate to Settings > Tawk.to.
Under Account Settings, enter the email address and password you created your account with.
Click Sign in.
Select the property you created in the previous section from the pull-down menu and click Use selected widget. This goes to show you can manage multiple sites from one account and create different widgets for each site.
Navigate to Visibility Options and make sure they are set as you'd like.

You can toggle the Always show Tawk.To widget on every page on or off. If you turn it off you can simply place the shortcode on pages where you want it to show up.
You can also choose to exclude the widget on specific URLs, which can be handy if you'd rather have it on all pages except a specific few.

Click the Save Changes button.
That's it! The service is now running on your site and you can now log into the web-based dashboard, which should have offered you a tour when you set it up, or download the app for your particular platform and manage your conversations and ticketing conveniently.
Are There Other Options Out There?
There are many other chat platforms out there. You probably noticed a few when you were adding the tawk.to plugin to your WordPress site. That said, tawk.to seems to have the most installations and approximately 4.5 stars. It's also been updated recently (3 weeks ago, at the time of this writing), showing that they continue to update it.
By all means, check out whatever chat platforms you want. I just think that tawk.to offers useful features, easy setup and installation, and multi-platform convenience.
Conclusion
All-in-all, I think tawk.to has a lot to offer and is simple to get set up and running This site doesn't really have a specific need for a live chat feature but, just so you guys can see how it works from a visitor's perspective, I'm going to leave it up and running for a little while. I can't promise I'll be online when you're here but, go ahead and try chatting with me. If I'm not here, I'll respond to you when I check-in.
So, what do you think of tawk.to? Do you think it's an easy way to Add Live Chat to a Website? What about the feature set? I'd love to hear what you have to say. Please take a moment and let me know by commenting below.
Thank you,
Scott Hinkle
SmallOnlineBiz.com