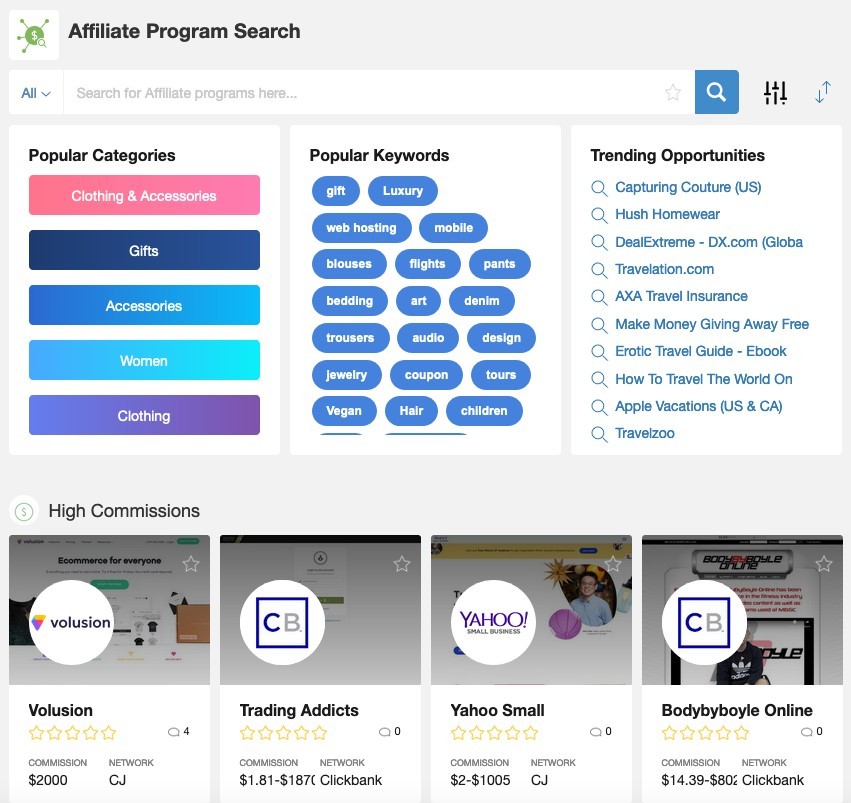 If you've read any of my posts, then you know I'm a pretty big fan of Weathly Affiliate (WA). There are many reasons for this but today I'm going to introduce you to an entirely new reason. Wealthy Affiliate Added an Awesome New Tool to their arsenal. It's called Affiliate Programs and it's going to be a revolutionary tool as it continues to develop.
Why is this exciting? It's simple, with so many programs out there, most just want to make a quick buck and move on. That's not the case with WA. Wealthy Affiliate's founders, Kyle and Carson, are active in the community and they work hard to make sure that they are providing the best training, hosting, community and tools available today.
In that same spirit, they've been working behind the scenes to, not only improve existing tools and services but to, introduce new tools as well. This post is all about sharing the latest tool to hit the WA community, at no additional charge, Affiliate Programs. Let's take a look…
THIS POST MAY CONTAIN AFFILIATE LINKS. PLEASE SEE MY AFFILIATE DISCLOSURE FOR MORE INFORMATION.
What is the Affiliate Programs tool?
In a nutshell, it's all about finding, rating, sharing thoughts on and organizing affiliate programs. That's the CliffNotes edition. In reality, it's a platform to help you manage your affiliate programs going forward. Here's what Carson had to say when describing it in his "New Platform Launch: Affiliate Programs" post:
"Conventionally it has been difficult to find affiliate programs. They are spread out everywhere on the Internet and to find affiliate programs you typically had to do a Google search, or rely on searching through multiple affiliate networks to find a program that works for you.
We wanted to change that. So we set out to create an environment that would allow affiliates to search and find relevant affiliate programs, to give them a medium to communicate feedback or reviews about particular affiliate programs they are involved with, and to follow and manage affiliate their list of programs they are interested in, or involved with in one place."
This is awesome! Until now, hosting, training and so on have all been a part of the Wealthy Affiliate but, finding, researching, rating, reviewing and communicating about affiliate programs has been an endeavor outside of the platform (short of live chat and blog posts within WA). This new tool integrates that endeavor into the WA platform itself, helping to bring WA that much closer to being a true one-stop solution for all of your affiliate marketing needs.
What Features Does it Offer?
OK, so what makes this tool so cool? Let's take a look…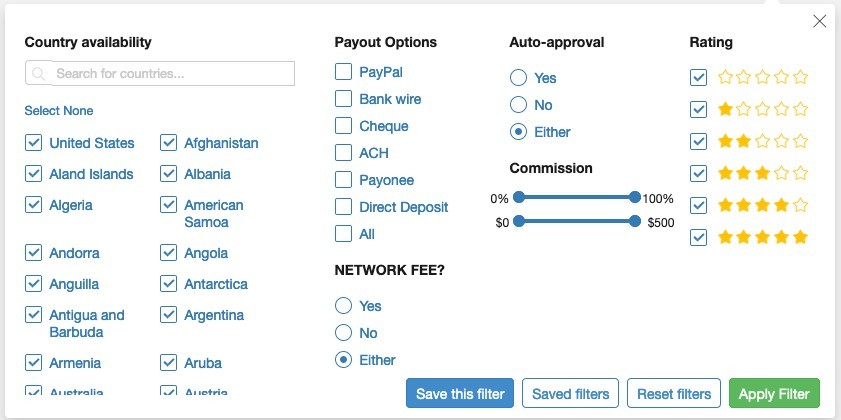 Search & Advanced Filtering
It can be hard to find the right affiliate program for your needs. Up until now, tips and tricks included; asking friends other members for their opinions, performing searches for your niche or product and adding the term affiliate to that search to see if you can find a program to match your needs, visiting the manufacturer's website and looking around to see if you can find an affiliate program and so on.
No more. Now you can find them in one spot and you can even apply some pretty advanced filters to narrow down your results. Check out some of these cool options:
Country Availability – Is the affiliate program available in your country or the country you plan to do business in? This filter allows you to select or deselect countries to change your search results.
Payout Options – Can't use PayPal? Only want direct deposit? You can now select the payout methods you want to work with.
Auto Approval – Are commissions auto-approved or do you have to wait for someone to confirm everything and release the funds?
Commission – You can even narrow the results by commission percentage or dollar amount!
Network Fee – Is there a fee charged for this affiliate program (i.e. is there a network that takes a cut off the top)?
Rating – You're even able to display results based on community start ratings.
Categories – This one is not part of the actual filter options but is still a way of filtering your results. If you're familiar with the Interests option in the SiteComments tool, this feature works the same way. You check or uncheck the categories that you want or don't want in your search results. It's just another way to get the targeted results you're looking for.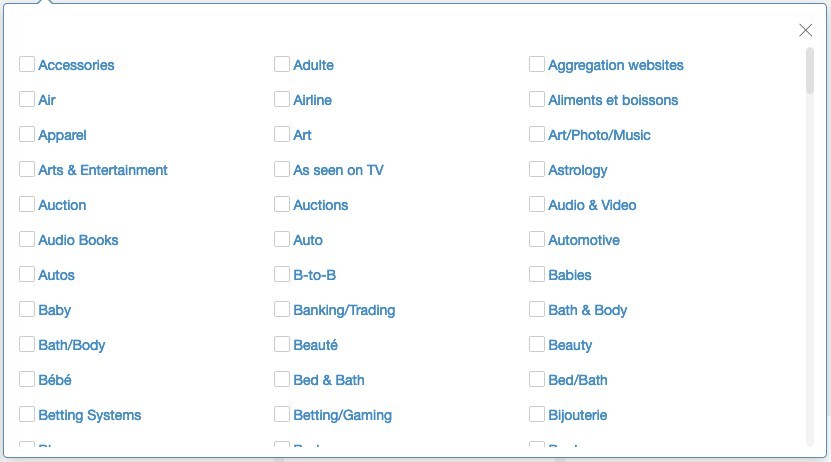 This is great! Now you can really hone your search to meet your needs. Just like you do with keyword research, you can now apply the same focused searching criteria to your actual affiliate programs.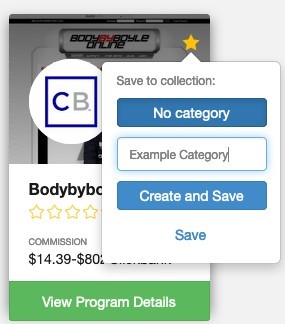 Follow
This may be a bit odd at first but you'll be able to follow affiliate programs. What this means is you'll be notified of reviews or updates related to the affiliate programs you follow. It a great way to keep on top of what's happening with a particular program.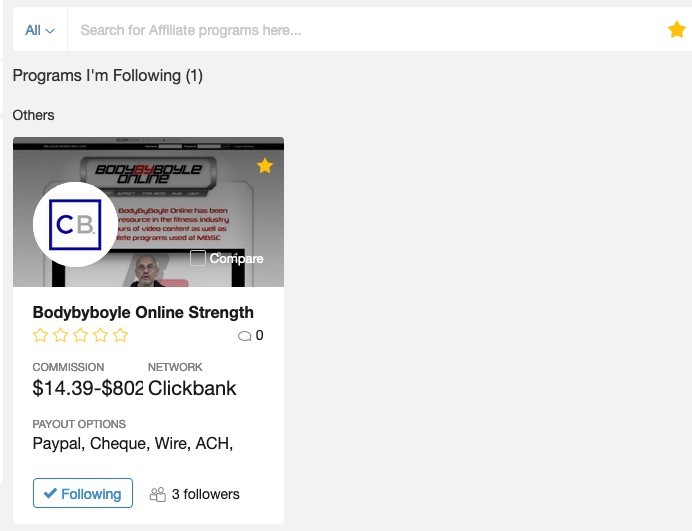 Manage
You will have the ability to create categories in which to file your affiliate programs under. This will allow you to organize as you see fit. Maybe you like to organize affiliate programs buy the websites you use them on, or maybe you want to organize by item type (i.e. flowers, drop shipping, programs for future consideration, etc.).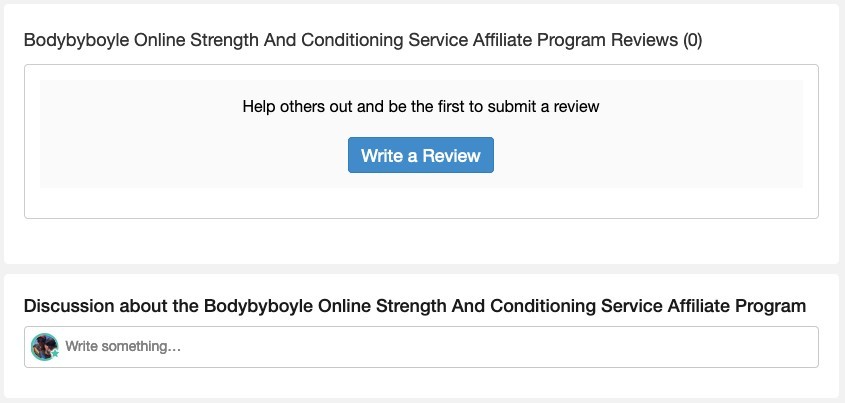 Communication
This is something special. This tool will allow you to communicate directly with the merchants to discuss the program, address questions, share experiences, offer reviews and so on. Imagine being able to have a direct, or at least semi-direct, channel to the merchant of the affiliate program itself.
Another aspect of this feature will be communication between other members centered around a particular affiliate program. You can pose questions, answer other questions, offer advice and so on. It's much like the tools available directly on the WA platform but specific to the affiliate program.
Merchant Management
Affiliate Managers and company owners will be able to manage their affiliate programs within the platform themselves. This is going to be an important feature allowing merchants to communicate directly with the affiliates and address questions, concerns and what not.

These are some great features for sure. I like the Program Metrics at a glance too. I can't wait to see how it all comes together as more and more affiliate programs are added.
Will There Be Changes and Enhancements to This New Tool?
Yes. This tool has been 2 years in the making. As this tool is used and people provide feedback, not only will it be changed for the better, but new features are sure to be added.
Carson has noted that there's already 12 to 18 months of updates coming. Of course, much like Apple, he's not saying what they are, but I'm sure it's going to be amazing.
How Does this Benefit Wealthy Affiliate Members?
In several ways, actually. Members can now have a place dedicated to affiliate programs. No more asking in Live Chat and hoping someone with experience with that particular program is online and paying attention or posting a question and hoping someone replies. Now, they can see the program, get basic details at a glance, ask questions, see ratings and so on.
From a different angle, this will also help members who have affiliate programs of their own that they want to promote. Now, they can reach out and submit their own programs for consideration (I don't know how this is done as I haven't looked into it, but I know it's possible). Many times people ask about such things and are either met with "Send a message to Kyle or Carson" or labeled as solicitors for trying to sell their own product or service within the platform.
Conclusion
I have to say, I've been with WA for a while now. I've seen improvements and updates such as the new website design, an improvement to the messages tool, etc. but I've never seen a whole new tool introduced before. And not some sort of up sell or accompanied by a membership price increase. That's just amazing to me.
When other programs just sell what they have and don't change with the times, WA keeps on top and even ahead of the pack. So now that you know Wealthy Affiliate Added an Awesome New Tool, what are your thoughts? If you haven't done so already, check it out. Try out some of the features and play around with it. I find it quite interesting and plan to start using it to my advantage.
Do you see a need for this new tool? Would you use it? What features do you like, dislike or would like to see? Let me know by commenting below.
Thank you,
Scott Hinkle
SmallOnlineBiz.com