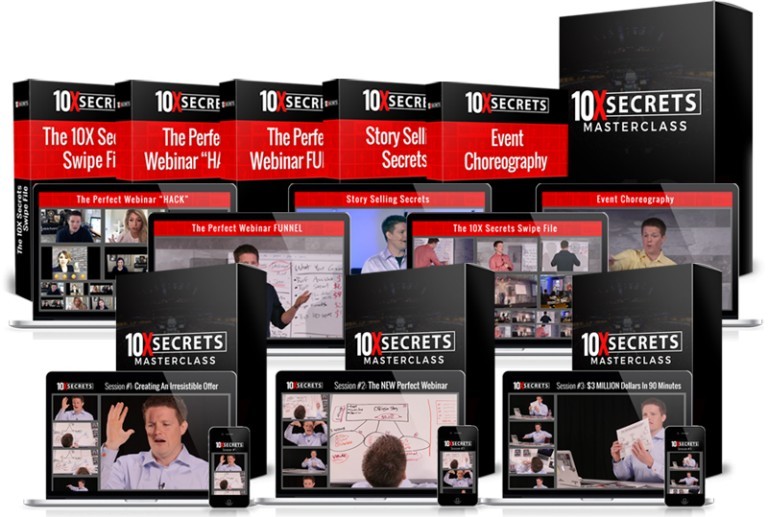 It seems that there's no shortage of programs, courses, seminars, and so on that are available when it comes to learning how to make money online. With so many options, it's difficult to weed out what's good and what's just making a run for your wallet.
I've reviewed quite a few programs and offerings on this site and will continue to do so as new ones come across my path. I intend to give you the information necessary to make an informed decision for yourself. I figure, if you have the knowledge, you're better prepared to pick the options that fit your needs and will give you the results you're looking for.
Today I'm going to talk about Russell Brunson's 10X Secrets Masterclass. We'll go over what it's about, what you get, what you'll learn, who it will benefit, and then sum it up with an overall opinion. After all, Russell Brunson is a well-known figure in the funnel marketing world. Certainly, this masterclass of his has something beneficial to offer, right?
So, what is 10X Secrets About? Let's find out…
THIS POST MAY CONTAIN AFFILIATE LINKS. PLEASE SEE MY AFFILIATE DISCLOSURE FOR MORE INFORMATION.
What Is 10X Secrets About?
In a nutshell, 10X Secrets is a training program that shows you how to get more sales for your business. To teach you Russell's approach for guiding your target audience to take your desired action from start to finish.
It's more than that, though. You'll learn about sales psychology, precise sequence and scripting, micro-commitments, pacing, offer structure, and more. The tips and guidance Russell provides are actually tested by him before being presented to you. It's not just theory but proven in practice.
The real takeaway is that he shows you exactly how he made $3.2 million in sales from a short 90-minute presentation at a 10X Growth event put on by Grant Cardone. It's like dissecting a perfect formula and seeing all the inner-workings and how it all fits together.
It's not just a do what I say program. It actually shows you real-world applications.
Now, let's see what you get with the course…
What Do You Get?
So, we know what the program is about, and now we want to know what all you get if you sign up?
In reality, not much physically… It's really about the training sessions and bonus material. You'll get three training sessions in total:

Training Sessions
Creating An Irresistible Offer
The New Perfect Webinar
How I Made $3 Million Dollars In 90 Minutes
I'll talk more about the training sessions in detail in the next section.
Bonus Material
Now, you'll also get some bonus material:
The 10X Secrets Swipe File
This is a collection of video and audio recordings of webinars that have generated at least $1 million or more. By reviewing them, you'll be able to pick up on the patterns and similarities, even though they are pitching radically different products to different target audiences in various niches. This is the secret sauce, so-to-speak. One you pick up on that, pitching anything successfully will become much easier and much more profitable.
The Perfect Webinar "Hack"
This script can be customized to sell anything and has been proven over and over again to be a successful template for any niche.
The Perfect Webinar Funnel
A funnel template showing you step-by-step how this funnel works, including:
Pages
Email Sequences
Indoctrination Sequences
Pre-seduction Sequences
Weaving Emotion And Logic Into Your Message
How To Double Your Sales
Getting People To Sign Up For And Attend Your Webinar
Story Selling Secrets
This bonus is all about helping you become a great story-teller. Not only will this alleviate any fears you may have about presenting your story, but it will help you with the following as well:
Creating Unwavering Belief
The Structured Selling Formula
Bridging The Knowledge Gap

Event Choreography
This is one of Russell's private Inner Circle trainings. It's a candid conversation covering everything that was done to orchestrate his successful $3.2 million and $13 million sales presentations.
As you can see, you get quite a bit in the 10X Secrets package. Now, let's talk about what you'll actually learn in the training sessions…
What Will You Learn?
As I mentioned in the previous section, there are three core training sessions. In this section, we're going to take a look at each one in more detail to give you a better overall understanding of the program and what it can do for you.
Creating An Irresistible Offer
This is the first module in the series. It's designed to help you transform and structure any product idea into a no-brainer offer for your audience easily. Topics include:
How to create a "blue ocean" and set yourself apart from others in your niche.
How to get out of price wars and avoid the race to the bottom.
How to piece together all the products in your offer to make your audience buy.
Really, it's the core ingredients that make up your core offering.
The New Perfect Webinar
This module provides you with training and the sales script that helped Russell go from speaking, resulting in no sales, to speaking and creating a $3 million rush to buy. Key takeaways from this module include:
Creating a hook to keep your audience watching past the first 2 minutes.
How to structure your presentation to knock down viewer objections and resistance.
How to get your audience to sell themselves on your offering.
A simple storytelling ingredient to help your audience grasp new ideas and concepts instantly.
The 3-part script that will take your audience on an emotional journey, focusing on making you the hero (building trust and authority).
How to structure your content to provide value but not give away the details.
The secret weapon to destroy the #1 "big elephant" reason that's holding your audience back.
Think of it as the perfect template that you can tweak to meet your specific needs and goals.
How I Earned $3 Million In 90 Minutes
This is a more in-depth training that covers the entire 90-minute presentation, slide-by-slide. You'll learn about the hidden selling techniques behind crucial parts of the presentation and why they were used. You'll also learn some interesting inside information in this one:
Why would you have everyone pull out their phones and turn on the flashlight?
Why are so many personal stories used?
How Russell got the audience to come to their own "Aha!" moment.
Why Russell didn't break down each module of what they're going to get at the end (Hmm, am I doing this review wrong?).
Why more than 90 hidden trial closes were woven throughout the presentation.
Psychology insights.
This is the ultimate "How did they do that?" behind the scenes look!
As you can see, the three modules provide quite a bit of actionable information and can definitely help you restructure old or form new presentations that have a much stronger impact on your audience. The real question is, who can benefit from this 10X Secrets Masterclass. Let's find out…
Who Will It Benefit?
I'm pretty sure you already know what I'm going to say here. Who can benefit? Anyone who presents information to one or more people. It's all about the pitch/presentation. It doesn't matter who you're pitching to or what product/solution you're pitching.
Are you selling vacuums? It's for you. Offering an invention you've just created? It applies to you too. Are you in the beauty niche? Guess what? It's for you also!
You get the idea. If you are presenting something to someone, in the hopes of having them take a specific action, this program is for you. Be it a webinar, in-person conference, even over the phone, there's golden information in this program, and it can help you address issues you didn't even know existed.
This applies to virtually every marketing field:
Webinars
Live, On-Stage Presentations
Podcasts
Social Networking
Door-to-Door Sales
Aksing For A Raise
And So On…
I guess what I'm saying is, if you have any need to present anything to someone else, 10X Secrets is for you.
Conclusion
If you'd like, you can check out the 10X Secrets Masterclass trailer here:
So, there you have it. Did I answer the question, "What is 10X Secrets About?"? I hope so. The short of it is that it's about making your presentations all they can be. By using tried and true templates and incorporating tips, tricks, and psychology, you can turn your OK, or even disastrous, offers into potential windfalls.
Now that you know a bit more about 10X Secrets, I'd like to hear what you have to say. Do you have more questions? Can you see the Value that 10X Secrets brings to the table? Maybe you've already taken the 10X Secrets courses. If so, what did you think of them? Were they useful to you? If you employed their teachings, what kind of results did you see? Please let me know by commenting below.
As always, if you're looking to start your own online business, please click on the banner below and check out my #1 recommended platform.
Thank you,
Scott Hinkle
SmallOnlineBiz.com