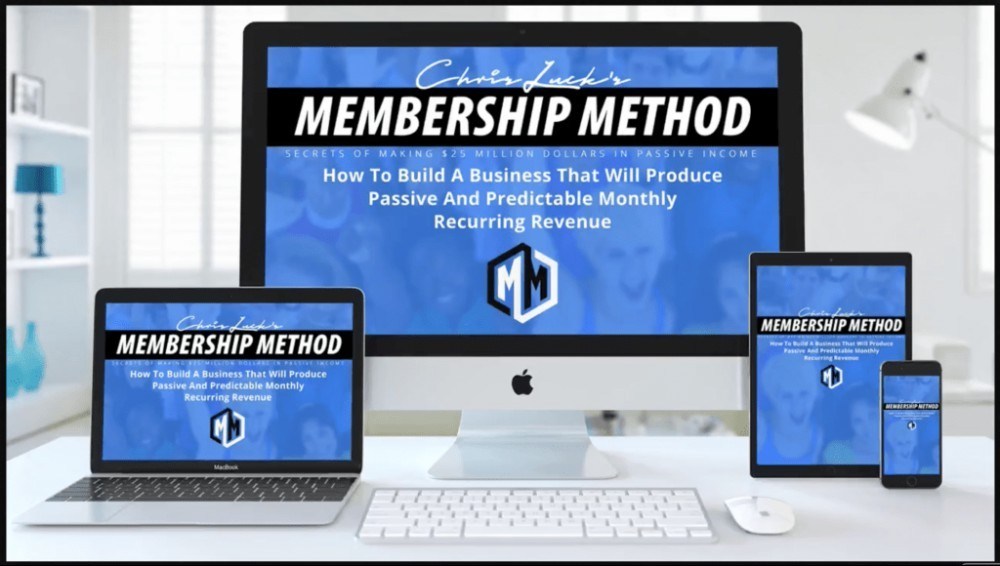 Hello and welcome. I'm betting that you're here because you want to know about the Chris Luck Membership Method and figure out if it's legit, a scam or somewhere in between.
First off, let me say, kudos to you for taking the time to do a little research. It shows you're serious and that you don't just jump on the first ad you see. Today we'll talk about what the Chris Luck Membership Method is, a little bit about the man behind the method, see what you get if/when you sign up, discuss the actual training and then figure out if it's right for you.
This review is just another in a long list of reviews that I provide to help others make informed decisions and avoid costly mistakes. When you're done here, please consider reading some of my other reviews to see if one of the offerings might be a better fit or work in conjunction with your current plans.
Some worth your time include The My Lead Gen Secret Review, What is CTFO? and Buy Cheap Traffic that Converts.
Now, let's find out what the Chris Luck Membership Method is all about…
THIS POST MAY CONTAIN AFFILIATE LINKS. PLEASE SEE MY AFFILIATE DISCLOSURE FOR MORE INFORMATION.
What is the Chris Luck Membership Method?
In short, the Chris Luck Membership Method is all about making money by creating, growing and sustaining a membership site where people pay you for the information you provide. The enticement is the information you provide, free-of-charge. After people get a taste for it, the premise is that they then pay for the exclusive content, etc.
The idea is to create a membership site with a monthly subscription fee and, as people start subscribing, you earn that residual income every month for as long as they remain members. The way you keep them coming back is to provide exclusive content in the form of e-books, videos, courses and so on.
Now, this may seem obvious to many but Chris goes further and shows what sells (AKA what they're willing to pay for).
There's something to be said for a program that will not only teach you how to do something but provide recommendations based on what to offer.
So, let's talk about the man behind the plan…
A Little About Chris Luck…
Chris Luck has been making a lot of money on a consistent basis for many years, using this exact system. He has been dabbling in various businesses since 1999 and created more than thirteen online businesses in that time. He started on the Membership Method back in 2007.
All of this has culminated in establishing a solid foundation and learning what does and what does not work when it comes to online membership sites. In fact, Chris claims he's making over $11,000 per day using this system.
Chris has gathered all of his experiences and knowledge into this one offering and is willing to share it with you, for a price of course. That said, some things are worth paying for.
Let's see what you get when you sign up…
What Do You Get?
So, what's all included in this amazing offer? Let's take a look and find out…
Instant Access
First off, you get full access as soon as you sign up. No waiting for books and whatnot in the mail. Sign up and log in.
Massive Discount
The suggested price of this program is $2997 but you get it for $1497. That's a $1500 savings!
Money-Back Guarantee
An impressive 12-month success guarantee. If you don't succeed in building a membership site within 12 months of signing up, you can request a full refund.
Traffic Bonus
This bonus will teach you how to get our first 100 members so you can start earning right away.
Template Bonus
Think of this one as a blueprint for your site. Chris actually provides you with a template for each page you'll need on your membership site.
Automation Bonus
Email swipes and follow-ups are provided. All you have to do is set them up in your autoresponder.
Mastermind Bonus
12 months of help and support. You can even request feedback on your site from Chris and his team.
Partnership Bonus
Promote the Membership Method and earn high commission rates for each sale you make.
Workshop Bonus
A monthly live online workshop where you can bounce ideas off of Chris and other members and just talk about what's working and what isn't.
That's quite a bit included in this package!
What Will You Learn?
The training is actually quite comprehensive and Chris takes the time to update the modules as things change. After all, the internet is a living breathing thing and what might have worked yesterday may not work today. It's nice to see programs that are kept up-to-date vs those that tend to become stale quickly and are left providing outdated information.
The course is designed to teach you in a six-week period. You'll learn how to create a membership website, some profitable niches you can consider (if you're having trouble coming up with your own), which niches to avoid (based on performance information – i.e. ones that will make you very little money), how to sell without selling (you don't want to be the car salesman of the internet) and so on.
Your training doesn't stop there though. You'll also learn how to grow and maintain that site including various tactics to employ to not only attract new members but retain those you already have.
Here's a quick week-by-week breakdown of the course:
Week 1 – Roadmap
The first week consists of six steps to build a foundation on. You'll learn the fundamentals, do some brainstorming, validate your market, select an idea to proceed with and figure out a name for your business, etc.
Week 2 – Content
This is vital, as content is to any website. Here you're going to produce the content that people are going to pay for. The whole purpose of joining your membership site.
You'll learn how to organize topics, conduct content research, create or even outsource the content and more.
Week 3 – Development
This is all about the actual site creation. Chris will show you one of his sites as an example and even suggest you use it as a template for your own. Platform recommendations, automated funnels and more are part of this module.
Week 4 – Free Marketing
In this module, you'll learn various tactics that you can start using right away to get your message out there and start attracting visitors.
Week 5 – Paid Advertising
Here, Chris will show you how to work with Google and YouTube ads, about retargeting, direct response emails, building an affiliate workforce to promote your site for you and so on.
Week 6 – Automation
This isn't what you think. It's not using tools and software solutions. It's actually all about outsourcing and hiring others to perform tasks. This can be used to delegate the tasks you don't particularly care for or simply to free up your time to work on more important things.
Pros and Cons
Every program has its pros and cons. This one is no different. Let's see what we like and what we're not so fond of…
Pros
Step-By-Step Training
This isn't some "you need to be at this level to understand the material" program. It's meant for the beginner and advanced alike. Come in at any level and learn from this system.
12-Month Money-Back Success Guarantee
A full year to try it out and see if it works for you. What other program offers that?
Support and Monthly Workshops
Have a question, ask. Need to bounce an idea off someone, do it. So many times you see programs that just say "Here's your PDF. Have fun!" that's it. That's not the case with the Membership Method.
Cons
Price
This is a hefty price tag for many. For others, it may be a drop in the bucket. Still, at just under $1500, it can be a bit much to swallow. There is no trial membership or monthly option. It's a one-time up-front cost.
Requires Works and Dedication
This isn't a get-rich-quick scheme. You need to follow the training and put forth the effort. If you're not willing to do that, don't waste your time and money.
Some Additional Expenses
As with any business, there're other expenses to consider. That said, these really aren't all that expensive; a web host, domain registration, autoresponder service, etc. These are really just the cost of doing business with almost any online endeavor these days.
In the end, I think the pros outweigh the cons.
Conclusion
One thing I can tell you is that the Chris Luck Membership method is legit. The founder is real, I couldn't find fake actor-based reviews or any of the other tale-tell signs that are usually associated with scams. It gives you the training and support you need to set up and run a successful membership site. All you have to do is put forth the time and effort.
Check out the introduction video and sign up here.
If you simply don't have the funds to lay down for this opportunity, consider my number one recommendation and check out my review by clicking on the banner below. You can actually start for free and build a very successful online business.

Now I'd like to hear from you… What do you think of the Chris Luck Membership Method? Do you already have experience with it? Will you be signing up for it? I'd love to hear what you have to say. Please let me know by commenting below.
Thank you,
Scott Hinkle
SmallOnlineBiz.com