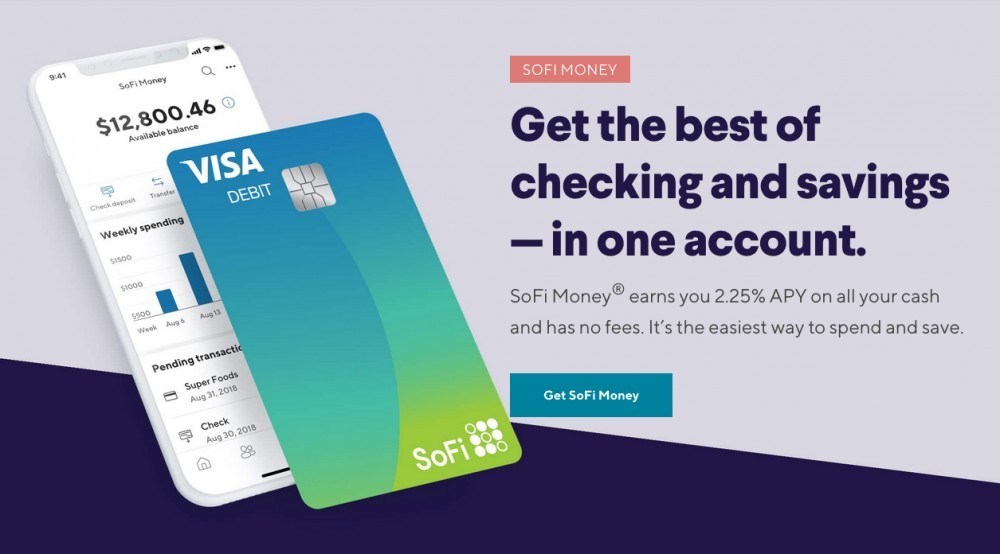 This post is a little different from most that I've written here. Usually, I offer a review of a product or service that's related to building an online business such as How to Learn About Affiliate Marketing or The My LeadGen Secret Review | A Rare, Legitimate Program for 2019. Still, this opportunity was just too good to pass up and I wanted to make sure you were aware of it.
Today I'm going to talk about a great offer from SoFi Money that can nab you quite a bit of cash if you take advantage of it quickly. In fact, the amazing bonus is only good through August 5th, 2019 so, I'm rushing this post out today rather than on my regular schedule.
Update!
The August 5th cut-off was actually for the $50,000 drawing.  The $50 bonus is still in effect so, if you were considering joining up, follow my link and make that $50!
You may be thinking "OK, what is SoFi Money then?". I'll cover that and more in the next sections. We'll also cover the amazing bonus (which is actually two offerings), why you should use SoFi even beyond the August 5th deadline and what else they offer.
Regardless of your initial reasons for joining SoFi, I do highly recommend them and use them myself.
Let's get started…
THIS POST MAY CONTAIN AFFILIATE LINKS. PLEASE SEE MY AFFILIATE DISCLOSURE FOR MORE INFORMATION.
So, What is SoFi Money?
To hear their spiel… "SoFi Money is a mobile-first banking experience powered by the SoFi app and SoFi Money Debit Card®. SoFi Money is a deposit account. What does that mean for you? Essentially, it functions like a checking account,
but it pays a higher interest rate on your deposits. The funds in your SoFi Money account are held and insured by one of our partner banks. SoFi provides everything else, including the SoFi Money Debit Card, our easy-to-use iOS and Android apps, a web interface, and customer support that really cares about helping you reach your next milestone."
What this basically means is that SoFi is a kind of middle man between you and several banks. From your perspective, you're just dealing with one institution and it's all done online. You don't have to set up accounts with these other banks or anything like that.
So, why would you want to do this? Simplicity, protection, and money of course. SoFi is just like most banks in the way you use it. You can use checks, a debit Visa card, transfer between accounts, send money, use bill pay, etc. You can also use your debit card at thousands of ATMs around the world too. They even allow you to set up joint accounts!
OK, so you talked about simplicity and what I get but you didn't really talk money yet. That's true. So let me start with this. I signed up for SoFi a few months back because of their great interest rate. I have an account at J.P. Morgan Chase. Guess what my checking service offers me as far as interest goes; 0%. Guess what my savings account gives me; .01%. SoFi gives me 2.25% on my account.
Update!
With the Feds lowering interest rates, SoFi's rate has also been reduced from 2.25% to 2%.
How much will SoFi cost you? Nothing… That's right, SoFi doesn't charge you a monthly service fee or require account minimums. They don't even charge an overdraft fee! When you access an ATM, they don't charge transaction fees and, if the ATM has the VISA logo somewhere on it, they'll reimburse you for any charges that institution ma impose. You can even travel the world and not worry about foreign transaction fees!
Another great thing with SoFi is because they spread your funds across multiple financial institutions, your money is insured by the FDIC for up to 1.5 Million dollars vs the $250K protection provided at a single bank.
They even offer membership perks. As a SoFi member, you can take advantage of their member benefits. These include career coaching, member advisory board, member experiences, and their referral program.
So how does SoFi make money? That's a great question too. They don't have the overhead of physical branches to deal with so their costs are considerably less than a traditional bank. They do make a small amount of interest on the money in your account and through network fees when you swipe your card at various locations. They also make money on SoFi's other offerings (more about those later).
Now, there are some fees that will be charged for certain services. If you need a replacement card, the first replacement is free but each additional one beyond that is $20. If you want the card rush delivery then that's $25. If you need to put a stop payment on a check, it will cost you $20 to do so and, finally, if you require statement research/legal processing, that will run you $100.
I do 95% of tasks online as it is. Why not make the change? No fees, a much better interest rate and great financial protection. It just makes sense.
Tell Me About This Amazing Bonus
Before I get into this I want to let you know that this is a legitimate offer and not some scam, even though it does really sound too good to be true.  To that effect, you can call SoFi's customer support at 855-456-7634 (SoFi) and verify the offer.  You can also see that this is their actual Customer Support phone number pulled directly from their Contact Us page.
So, If the above wasn't enough to get you to check SoFi out, consider this. From now until 11:59:59 PM (I'm not sure which time zone) on August 5th, 2019, if you sign up for a SoFi account by following one of my links in this post, and fund it with a minimum of $100 within 14 days, you'll receive a $50 bonus. That's a 50% profit on a $100 deposit!
Again the August 5th cut-off was not for the $50 bonus but rather the $50,000 drawing.  The bonus is still available.
Better yet, I will also get a $50 bonus if you do so and, once you're signed up, you can share this opportunity with others too and earn yourself $50 for everyone that signs up before the deadline and funds their accounts with $100 within 14 days. You can keep doing this up to $10,000 in bonuses.
That's the real reason I rushed this post out. SoFi is already great but why not reap the rewards this bonus has to offer? My site is not about making money fast or getting rich quick but when I do see a legitimate opportunity, I do try to get that out to you as soon as possible.
I can tell you this offer is legitimate. I've already shared it with my friends, family, and co-workers. Do yourself a favor and get the $50 bonus for yourself at least.
Should I Use SoFi Even When the Bonus has Passed?
In short, yes. As I said, I signed up a few months ago. I've already earned more interest in those few months on $100 then I did all last year at Chase and haven't paid a single fee. It's really a no-brainer. I'm actually considering closing my Chase accounts and just using SoFi for everything.
In the end, the choice is up to you but what do you really have to lose? I see it as a win-win.
At the very least, consider them for an additional account, if you don't want to replace your current bank altogether. I think, once you've tried them out, you'll be quite pleased.
What Else do They Offer?
So this post was all about SoFi Money but SoFi is much more than that. They offer several services that may be beneficial to you. Here's a listing of their current offerings and a very brief description line for each (I don't want to make this a multi-page review and these other services are outside the scope of SoFi Money).

Borrow

Invest

Refinancing

Lock in lower rates and monthly payments.

Become an investor for free!

Student Loan Refinancing

Refinance your student loans and save a ton!

SoFi Invest

Invest like a pro without being one.

Medical Resident

Low rates and no compounding interest during residency are just a couple of features offered by this program.

Stock Bits

Invest in partial shares.

Parent PLUS

Having kids was the hard part. Finding a better loan is the easy part.

Active Investing

Become an investor without fees.

Private Student Loans

Check out their no-fee options. Chances are, you'll find a better loan here.

Automated Investing

SoFi will build and manage a portfolio for you without charging a management fee.

Undergraduate

Low-rate loans, fast and easy.

ETF's

An easy, low-cost way to diversify your portfolio.

Graduate

Competitive rates, no fees, no fuss.

Spend

Products to manage your money.

Parent Student

Help pay the way for your child's education.

SoFi Money

What this review is all about.

Personal Loans

Pay off credit cards or get started on those home improvements.

SoFi Relay

Track all of your finances in one place to stay on track and hit your goals.

Home Improvement

Focus less on budget and more on building.

Protect

Protect your property and loved ones.

Credit Card Consolidation

Get back in control and pay off high-interest credit card debt.

SoFi Protect

Articles and resources relating to protecting your assets and loved ones.

Home Loans

Competitive rates and affordable down payments.

Renters Insurance

Instant, affordable and easy to understand renter's insurance.

Mortgage

As little as 10% down.

Homeowners Insurance

No brokers. No paperwork. Starting at $25 per month.

Mortgage Refinancing

Lock in a lower rate and payment.

Auto Insurance

Save up to 52% on car insurance.

Jumbo Mortgage

10% down and no PMI!

Life Insurance

Affordable term life insurance that's quick and easy to understand.
As you can see, they don't just do banking. If you want to know more details about one of the features listed above, please visit their website at https://www.sofi.com.
Update!
I forgot to mention that each time you refer someone who signs up and takes advantage of the bonus promotion, you're entered into a sweepstake to win $50,000!  I thought that warranted an update to this post.
This is the bonus that expired on August 5th.
Conclusion
I hope I've answered the question "What is SoFi Money" in this post and that you see the advantages of having an account with them, not to mention the current bonus they're offering. All-in-all, I believe this is a great option for anyone out there but, that's me. What matters is what you think is right for you.
If you think SoFi is right for you, please follow this link to take advantage of the amazing bonus offer.
I already took the plunge. The real question is will you be taking advantage of SoFi's offering too? Are you already a member? What are your thoughts on SoFi in general? Is there another online banking platform that you recommend? Please let me know by commenting below.
Thank you,
Scott Hinkle
SmallOnlineBiz.com