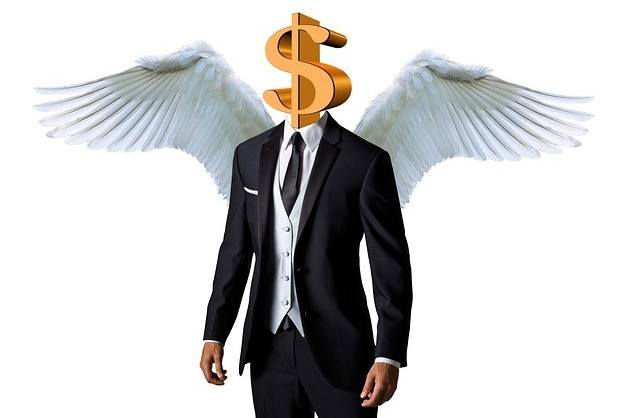 What's An Angel Investor? I know this is a little off-topic when compared to my other articles here, but I wanted to share it with you anyway. In the end, most of us are looking to make money and build a nest egg that will allow us to enjoy life rather than merely working to survive. That's what this whole site is about, breaking free from the traditional 9 to 5.
Most of the time, I review "opportunities," themes, plugins, tools, platforms, and so on that can help people start or even expand their online business. Today, I'm going to talk about an opportunity that has been around for a very long time but only available to the wealthy elite. That restriction has recently been removed, and angel investing is now open to the masses.
In this post, I will answer the question of "What's an Angel Investor?", and talk about what makes angel investing so exciting. We'll see if you can actually make money, what risks are involved, and discuss the tools and platforms available to you to help you with your research.
Let's take a look at what an angel investor is and see if it's something that might be of interest to you…
THIS POST MAY CONTAIN AFFILIATE LINKS. PLEASE SEE MY AFFILIATE DISCLOSURE FOR MORE INFORMATION.
So What's An Angel Investor?
In a nutshell, an angel investor is someone who invests in startups.
Often, companies just starting up, need money to develop their ideas, marketing, and so on. Sometimes, the founders will fund the companies themselves (if they have the means) or even ask friends and family to back them. Still, this may be insufficient for their needs, and they may need to go out and try to raise funds in other ways. This can come in the form of business loans, and so on.
The problem with that is, many times, specific criteria have to be met to qualify for such loans. Credit history, cash flow, assets, customer base, revenue, etc. It all plays a part in the loan application process. Many times, startup companies simply don't have the history needed to obtain funding.
That's where the Angel Investor comes in. People can invest in companies for a variety of reasons. Maybe they just want to help; they like the idea; they want to make money; the list goes on and on. As an angel investor, you decide what makes the company worth investing in.
Up until recently, there have been rules and regulations restricting people from investing in such startups directly unless they met relatively high income and net worth metrics (accredited investors). This was an effort to keep people from throwing their money into highly speculative investments and going broke in the process. Some would argue, it was a way to make the rich, richer and keep the poor, poor.
New legislation has removed much of the restrictions, and now, virtually anyone can invest in startup companies and, through equity crowd funding, become an angel investor. Some can even get in on the bottom floor for as little as $50!
With the addition of a much larger investing base, it didn't take long for platforms to emerge that help both companies and investors find each other.  Well take a look at some later in this post.
Why Is Angel Investing So Exciting?
I can't answer for everyone, but there are many reasons I find angel investing exciting. Here are a few of them…
The Potential To Make Money
Let's go hypothetical for a moment. What if you were Steve Jobs's neighbor (or if you're not an Apple fan, Jeff Bezos's) and he was looking for some financial help to get his new business off the ground? Now, let's say you saw the potential in his idea and decided to give him a few hundred dollars in exchange for some equity or a discount on shares in his company down the road. Can you imagine what you'd be worth today?
The Satisfaction Of Knowing You Helped Start Something Great
There's something to be said for helping a company get started. Maybe you want to invest in feel-good companies. By this, I mean companies that help the unfortunate, clean up the environment, bring clean water to underdeveloped regions, and so on.  When you help them, you're helping others and you get that good feeling inside.
Bragging Rights
You may back a company today that does something amazing in the future. You could then point it out and say, "Hey, I helped that company get started." The same can be said for the making money part, "Hey, I'm super-rich now.".
Those are just three things I can think of off the top of my head. Each one is an exciting scenario for me. I'm sure there are plenty of other reasons too.
Can You Really Make Money As An Angel Investor?
Yes, I'd even argue that you have the potential to make a lot more money than you do with a venture capital company, who usually invests just before an IPO, or by getting in on an IPO. Investing via a VC usually has high minimums. There's only so much room in the pot for everyone, and whoever's pockets are deepest can get the most significant piece of the pie.
An IPO is what most people think of when we invest in a company. Buy the stock when they're just releasing it. This is still a great time to get in, and you don't necessarily have to part of a VC.
Don't get me wrong; you can still make money in these ways, but the actual high-multiplier investment opportunities are on the ground floor as the company is just getting started. By the time you get to the pre-IPO or IPO, much of the exponential growth has already happened. The company has already proven itself and can demand more per share than when they were just an idea in the works, dangling a bigger carrot to get you to invest.
That's why angel investing is really where the significant profit potentials lie. You're getting in at a time when a company usually undervalues itself to make them look more attractive and provide more incentive to get you to invest.
How Risky Is Angel Investing?
As with any investment, there's risk involved. There's a trade-off when it comes to potential gains: the more risk, the potentially higher rewards.
Yes, you can buy stocks at the IPO. The company has proven itself, has clients, cash flow, and the like. It's a safer bet. As such, the price reflects that. On the flip-side, startups are riskier, the founders may or may not be veterans when it comes to running a company, the idea may have yet to be proven, and so on. That's where you have to do your due diligence and check the company, and it's founders/team, the competition and the market out.
Many startups fail. Others go on to become a decent business and provide a little return on your investment. A few will even become unicorns, companies that hit the billion-dollar mark after ten years. That's where you want to be.  There's the super-unicorn, a company that hits the billion-dollar mark in under ten years, but those are extremely rare and you may never find one.
One way to hedge your bets is to diversify your startup investments. Get ten to twenty companies in your portfolio. If you do your due diligence, you should be able to make a decent profit. Sure, some companies you pick will fail but, if you diversify your investments, the others should more than makeup for that loss.
Look at it this way. Say you invest $200 in ten companies. That's $2000. Now, if half of those fail, you lose $1000. Now let's say four of them double your investment. That's $800. So, now you're at $1800. That's still a loss of $200 but, if that one company that's left, takes off and gives you 100 times return on your investment, your overall total is $21,800.  Now, imagine if it made 1000 times return on your investment.  That little $200 just became $200,000!  At that point, would you even care about the $1,800 your other investments returned?
There is one thing to note. Angel investing is a long-term investment. Most of these companies aren't going to return a profit quickly, but you can start with a couple of companies and build your portfolio slowly. As one exits (the way you make your money), you can add more. It will be a revolving investment door, and if you do your due diligence and invest wisely, your investment dollars will grow. This will allow you to enjoy the profits or reinvest more significant amounts, etc.
What Tools And Platforms Are Available?
There have been a lot of platforms and services popping up to take advantage of this new opportunity for the masses and help people research and make investments in startups. In this section, I'll list several that I personally use. Some are pay-for, some are free, and others are pay-for that you can use freely to some extent.
Angel Powwow
This website is my own creation.  I've gotten so involved in and excited about Angel Investing that I wanted to create a platform that allowed the angel investing community the ability to communicate in real-time with each other.  Angel Powwow offers live chat, deal forums, public and private messaging, video chat and more.  Now, I just created the site so it's a little sparse right now but I'm hoping it will become the go-to hotspot for angel investors.  Check it out!
Angels + Entrepreneurs Network
This is the platform where I started my angel investing endeavors. I'll be honest here. I have mixed feelings about it. What brought me here was Neil Patel. I've followed him for quite some time and was intrigued when he announced this platform. The premise is that he'll pick individual companies that meet his selection criteria and list them for us to look at and do our due diligence. He'll also interview the founder(s) and post his final thoughts, etc.
The reason I have mixed feelings about this platform is because he doesn't say if he will invest his own monies into the company. There are also some upsells to gain access to more prestigious deals, which I find to be a bit of a turn-off.
Another thing that's more of an annoyance is that all communication is moderated. Don't get me wrong. I see a need to make sure people aren't abusing the messaging system. But this moderation is very slow, and I feel it stifles what otherwise could be a great platform. Some members have taken to creating Facebook groups and Trello boards as a way of getting around the slow communication issue.
Now, that said, I'm a member, and I do see the value that Neil brings to the table. So, for now, I do recommend it. You can go to the main URL here: https://angelsandentrepreneurs.com/ and you can watch the somewhat gimmicky opportunity video and sign up here: https://pro.angelsandentrepreneursinfo.com/.
If you do join, look me up and say hello.
Crowditz
I love this site. It's a great resource to gather information on companies looking for angel investors. I use it to quickly see things like seeing the latest companies seeking angel investments, what companies Crowditz recommends, momentum leaders (those gaining funding quickly), which opportunities are ending soon, which ones are likely to sell out, average daily raise leaders (those getting the most backing each day) and those expected to sell out.
What I really like is the Momentum Meter. It shows how hot a particular company is, etc. The snapshot view is great too. You can see what other companies are in the same category, how much has been raised to date, the start and stop dates, security type, investment minimum, number of investors, and much more.
It's free to use so definitely add it to your list of platforms for conducting your angel investing research. Check them out here: https://www.crowditz.com/
***UPDATE*** – Crowditz was acquired and integrated into KingsCrowd.  The features I love are still there, just at a new site (see below).
Early Investing
This site is a bit outside of my comfort zone. The introduction video alone was enough for me to say "OK, stop trying to sell me on this. Let's just take a look at what you have to offer". Honestly, this platform isn't for me, but, I did want to share that you can read many of their informative articles for free. It's not a bad place to get a little education.
That said, it's on my take it or leave it list. It can be helpful, but it's not necessary. I'll leave it up to you whether you want to use this site or not. You can find it here: https://earlyinvesting.com/
Fundrise
Now, this site is actually built around investing in properties. It's a great way to diversify your portfolio and invest in something tangible. The minimum investment on this platform is $500, and they have some impressive property portfolios to choose from. They even have investment plans that spread your investment options across various property types based on your investment goal.
They are worth checking out, especially if you're looking to diversify. You can find Fundrise here: https://fundrise.com/
KingsCrowd
Here's another site I use to gather information. You can obtain basic information on various opportunities and, if you sign up for their membership (which is quite affordable), you can get detailed analyses, deals to watch and underweight deals as well.
I am not yet a paying member but, after looking over some of their articles, I'm leaning towards joining them. Please check them out here: https://www.kingscrowd.com/
MicroVentures
This is one of the platforms where you actually invest in companies. Think of them as a brokerage for angel investments. I have investments with MicroVentures in a company called Jetson AI.
The platform is easy to use, and you can invest in all sorts of companies. Check them out here and get started today: https://app.microventures.com/offerings
OurCrowd
OurCrowd is another investment platform but geared toward those who want to spend a little more. It's for accredited investors, and investment amounts start at $10k. I'm not in that accredited investor group, yet, so I am not using this platform other than to take a look and see what's going on in general.
If you qualify as an accredited investor, go ahead and check them out. They have a lot to offer, and I think you'll like what you see. You can check them out here: https://www.ourcrowd.com/
Republic
This is another platform for actually investing in companies. Just like MicroVentures, they're easy to use and quick to set up. I have two investments with this platform; Soar Robotics and I'm on the waitlist for CHRGR.
They are also rolling out a beta notes program, where you can earn notes for performing various tasks.  I'm not yet sure what the notes will be for but it's an interesting feature just the same.
If you're going to start angel investing, head on over to Republic and set up your account. You can find them here: https://republic.co/i/tpyifl
StartEngine
Yep, you guessed it; this is another platform for actually investing in companies. I have an account with StartEngine, but I haven't actually invested in one of the companies using the platform yet. I am looking at Flower Turbines, but I'm on the edge and still doing a bit of due diligence before I make a decision.
StartEngine is easy to use and another platform you should definitely set up an account on. You can find them here: https://www.startengine.com/
Wefunder
This is the last investing platform I'm going to recommend today. Just like MicroVentures, Republic, and StartEngine, Wefunder lets you invest in various startups. I have an investment with this platform as well. It's an electric vehicle company by the name of Aptera Motors.
As I've recommended with the other investment platforms, go ahead and set up an account. Once you find the company you want to invest in, pull the trigger. You can find Wefunder here: https://wefunder.com/
Check out the companies I've listed above. Some of them are simply research platforms or membership groups that can help you with your angel investing endeavors. Others are the actual platforms used to make your investments. All of them offer some level of research and information.
See what works for you and try to come up with a research plan so you can vet the companies you're interested in and determine if they're worth investing in. Remember, the more information you have at your fingertips, the better equipped you are to make an informed decision as to what you should invest in. Please check out these sites and see for yourself which ones might fit your needs best.
Conclusion
So I hope I've answered the question "What's An Angel Investor?". As you can probably tell, I'm quite excited by the prospect of angel investing. I have joined the Angels + Entrepreneurs community, and I've even invested in 3 companies. I am currently waitlisted for one and am considering another to invest in.
I plan to invest in approximately two companies per month, on average, and build a diversified portfolio of 20 to 30 companies on a revolving basis (i.e., as one exits another will be brought into the fold). I feel this will give me the diversity I need and allow me to invest in companies I believe in.
Again, please check out my angel investing collaboration website at http://AngelPowwow.com.
Now, I'd love to hear from you. Are you already an angel investor? If so, what's your view of, not only angel investing in general but, the platforms I've listed here? Are there any platforms I've missed that you think should be included? If you're thinking about getting started in angel investing, what inspires you to do so? Do you have any questions I haven't answered here? Please let me know by commenting below.
Thank you,
Scott Hinkle
SmallOnlineBiz.com