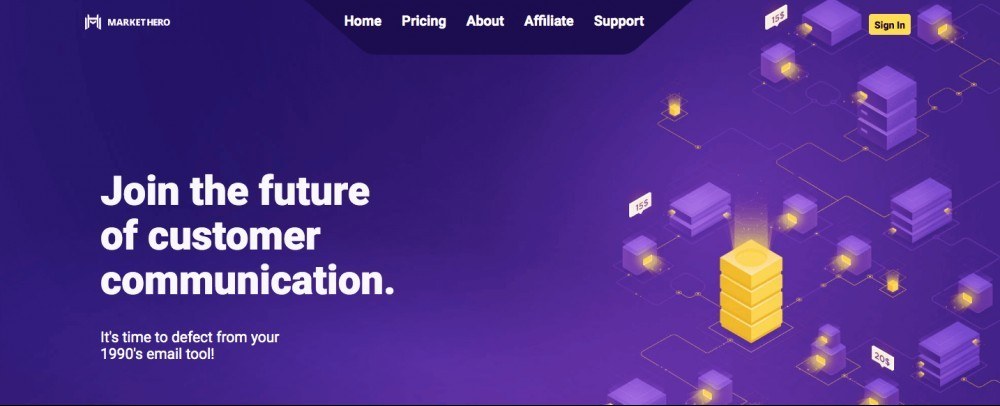 In the online business world, connecting with your clients is crucial (I'm pretty sure that in any business, it's crucial). There are many ways to go about this but one of the most common methods is using a mailing list. The next step up is using an autoresponder.
Now I've written about mailing lists and autoresponders before. If you haven't read those articles, check them out for more information:
Free Email Autoresponders | 5 Great Options for Your Blog
Now that we got that out of the way, let's take a look at Alex Becker's Market Hero product. We'll discuss why we'd even want to consider using autoresponders and email services, what Market Hero is, what makes it special, competing services you might want to consider and then finish it up with an overall opinion and request for comments.
Let's get started…
THIS POST MAY CONTAIN AFFILIATE LINKS. PLEASE SEE MY AFFILIATE DISCLOSURE FOR MORE INFORMATION.
Why Use Autoresponders and Email Services?
So why are we even contemplating using an autoresponder and/or email services? There are actually a few answers to that question:
Time
By using autoresponders and email services you can save a lot of time over maintaining a mailing list. It's a hassle to manage users, handle removal requests and so on. Sending out multiple emails to your subscribers, whether it be new post notifications, a succession of emails (much like my multi-day training course, etc., takes a lot of time and effort. These services take care of all of that so you don't have to.
Automation
Take my multi-day course. When you sign up, you get a new email every day for something like eight or ten days. I don't remember exactly how much but I'm sure you can imagine how tedious it would be for me to manually send it out to each subscriber and keep track of who's on which day, etc. Now I can set it and forget it.
Legalities
There so much going on with internet rights and spam and whatnot. These tools allow subscribers to manage their own memberships. They can sign up, unsubscribe, manage multiple subscriptions and so on. Most even utilize a multi-step subscription mechanism to verify the person signing up really intended to. This usually comes in the form of a confirmation email where the subscriber needs to click on a verification link to confirm the subscription. What's nice about this step is it also verifies the email address is valid. No verification click, no wasted subscriber count or email sending.
Convenience
I'm not even sure I need to list this perk. If you read the above, you'll know that it takes the monotonous work out of your hands and places it within the tool's workings and just makes your life a little easier.
There's even more but you get the idea. They're tools to make your life easier and allow you to focus on other aspects of your business.
Now, let's take a look at Market Hero…
What is Market Hero?
Market Hero is the brainchild of Alex Becker, a self-made millionaire who's first brand, Source Wave was focused on all things for Search Engine Optimization (SEO).
At its basic level, Market Hero is an autoresponder. It will handle your email list, mailing campaigns and so on, just like all the other autoresponders out there. That said, when you take into account everything the platform has to offer, you'll discover that it's actually much more than that.
Alex realized that there wasn't a single solution out there to address the online businessperson's mailing list needs. Analyzing lead information, tracking funnel performance, and sorting which clients should be associated with which funnels and so on, simply wasn't possible in a single tool and certainly wasn't easy using multiple tools. Trying to keep organized and track all of this was simply overwhelming at times and extremely time-consuming.
These issues are what Market Hero was born from. Let's take a look to see what sets it apart…
What Sets it Apart From All the Others?
Really, simply more. Basically, it's an autoresponder with more features. Consider it an autoresponder+ or on steroids. Let's look at what it offers beyond the usual autoresponder feature set:
Reporting and Analytics
This is where Market Hero shines. Detailed analytics down to the individual subscriber provides you with all kinds of information to improve your message and convert more.
Facebook Messenger Autoresponder
Email isn't the only way to engage your customers. Social media play a big role these days. Market Hero knows this and focuses on other platforms, not just email.
Customer Lifetime Value Calculator
Now this one is cool, Market Hero will "grade" your clients based on their activity. For example, someone who never opens your emails will be "less valuable" than others that do. I'm not trying to say everyone is just a number but knowing which clients to focus on is a big advantage.
Contact Segmentation/Organization
Organize your lists by certain criteria. Categories include; gender, value, age and so on. This will allow you to design finely targeted messages and funnels that will result in higher conversion rates.
Integration
Link to your Shopify account and track your customers from start to finish. Track what they buy, which links they click on your emails and more.  Link to other services as well (see the screenshot below):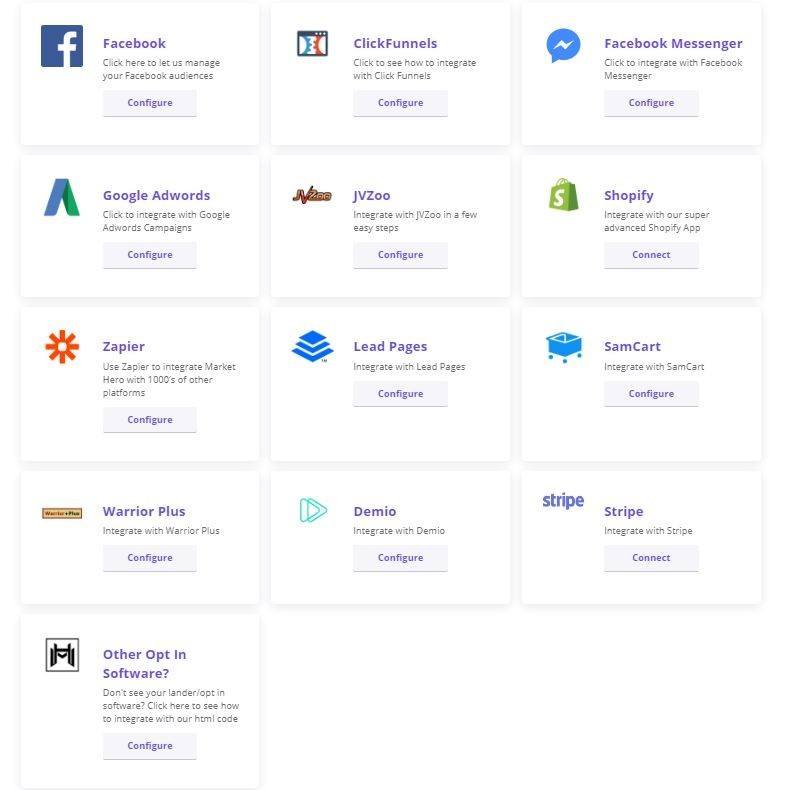 Sales Funnels
Not everyone uses a sales funnel, or at least they don't plan one, it just happens. Still, it's nice to see that Market Hero integrates sales funnel functionality into it's offering vs having to use multiple platforms. You can set up and test various funnels to see what works best for you.
Split Testing
Different people respond differently to the same ad or presentation. Market Hero lets you setup split testing to see which marketing material works best for your various online campaigns. Split testing is a great way to narrow your focus and provide content that converts.
Trustworthy/Secure
Not all autoresponders are on the up-and-up. Market Hero has strict data management policies in place. Right in their contract, they state that they can't use or sell your contacts. Your lists are your own and you don't have to worry about them being sold to a 3rd party, etc. Also, Market Hero has several data safeguards in place to prevent breaches, keeping your list secure.
Training
Most services will provide training on how to use their products. Some will even offer tips for email marketing or creating autoresponder campaigns but Market Hero goes beyond that. They offer training on email marketing, SEO, sales, and paid advertising. It's nice to have a place that's not just about using their service but about helping you succeed in general.
Support
Email support is slow and annoying at times. You can send a message and then wait hours, or even days, for a response. How about Live Support? Market Hero offers it. You can always get someone, day or night, to help you out if you have an issue with the platform.  They even have a knowledge base!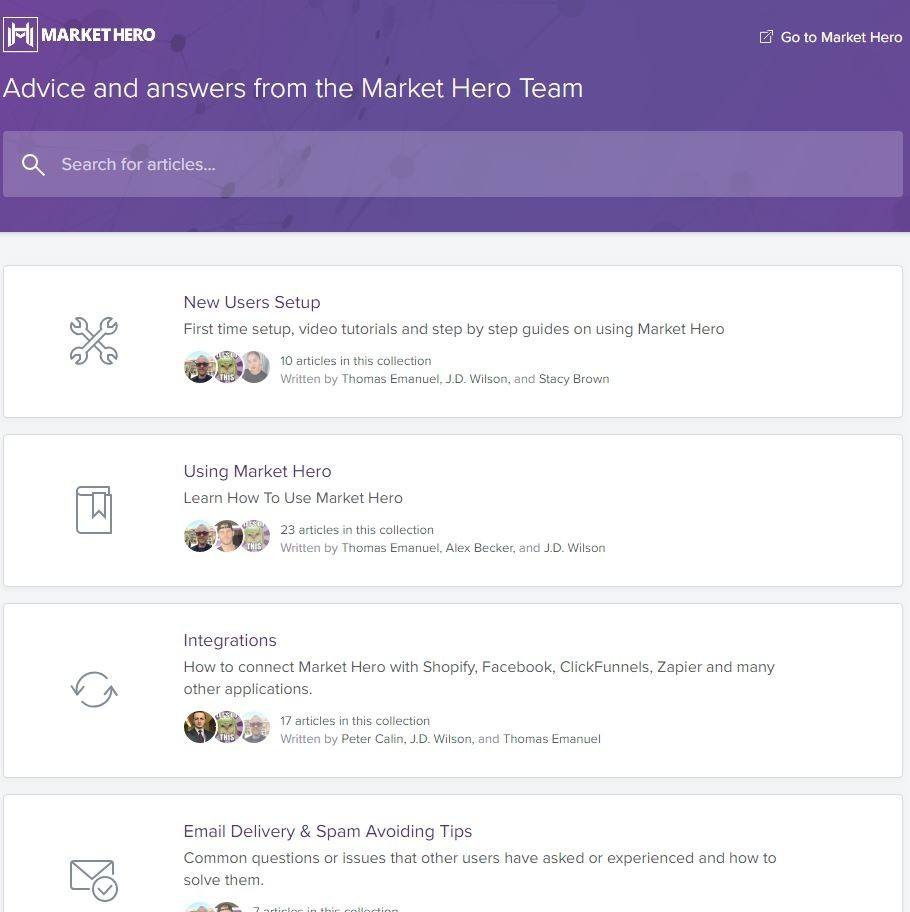 Customer Appreciation
As a way of showing their appreciation, Market Hero will toss gifts your way. They can range from additional training courses and books to gift cards and more. Although features and functionality are the primary concerns when using a tool, it's nice to see a company truly appreciate it's customers.
As you can see, Market Hero does offer quite a bit. That said, it may offer more than you need or there could be a competitor out there that's a better fit for your needs. Let's take a look at some of the competition that you might want to consider…
What Are Some Competitors to Consider?
ClickFunnel
ClickFunnel is a highly used funnel platform created by Russell Brunson. It's probably one of the best, if not the best, automated funnel platform available. Other offerings from the same minds include Funnel University, Funnel Scripts, One Funnel Away Challenge and more! By the way, Market Hero integrates with ClickFunnel.
Aweber
Aweber is one of the top-used autoresponder platforms out there. It comes highly recommended by many in the affiliate marketing world and offers some great features.
GetResponse
GetResponse is pretty much just as popular as Aweber. If you're not using one, it's usually the other. It's definitely worth checking out to see if it's a better fit for your specific needs.
MailChimp
MailChimp is another popular option. Email campaigns, landing pages, pop-up forms, and more are all possible with this platform.
MailPoet
MailPoet is actually the service I currently use to manage my mailing needs. That said, I have simple needs at this time; to deliver my multi-day training course and notify my clients when new posts are published. MailPoet does this well and, for my needs, is actually free.
Others
There are a lot more Autoresponder tools out there. Check out my post on Free Email Autoresponders | 5 Great Options for Your Blog for more detailed information. I also list a few others in my How to Make a Mailing List post.
Conclusion
So, did I answer the question "What is Market Hero?" for you? I hope so. In the end, selecting the right marketing communication platform to fit your specific needs will be something you need to look into. I suggest sitting down and weighing your wants, needs, budget and any other considerations and then creating a list organized in a way to show the features most important to you first.
What's nice about Market Hero is you can track your return on investment at the per-subscriber level. That's pretty amazing! Now you can calculate your spending and see where the money makes the most difference. On the down-side, it can be a bit complicated to set up and use. Then you have the cost of the platform to consider and there are several tiers to choose from that are based on your subscriber list count.
I can't tell you if this is the right platform for you or not. All I can say is make that list, figure out what's most important to you and then compare Market Hero against the other options out there to find the best fit.
If it turns out that Market Hero is the right platform for you, go here and sign up for the free 14-day trial and test it out.
Now, I'd like to hear from you… Do you currently use or have you used Market Hero? If so, how do/did you like it? What's good about it? What's bad? If you're not a current user, are you planning to sign up? What factors influenced your decision? Did I miss any features, pros or cons that you think should be listed here? Did you choose to go with another platform and, if so, why? Let me know by commenting below.
Thank you,
Scott Hinkle
SmallOnlineBiz.com