As most of you know, if you're going to do business on the internet, you should have a website. For some, that means hiring a web developer, for others using a simple free solution that may not produce the best looking site out there but it still works. Then there are the in-between options, including doing-it-yourself on a platform such as WordPress. Don't worry; it isn't as hard as you might think.
By now, you've probably heard of a hosting solution known as WordPress (besides me mentioning it above). If not, I'm a little surprised. A large chunk of websites on the internet today are WordPress sites. Back in the day, it was hand-coded in HTML or use WYSIWYG (What You See Is What You Get) web development software such as Dreamweaver or Microsoft's FrontPage.  Here's a great article on Why You Should Use WordPress As Your Website Builder.
The internet has come a long way since those days. This post, from BraodbandSearch, is an excellent read on how WordPress changed the Internet.
WordPress has made website creation a breeze and has addressed one of the biggest hurdles to creating a website, formatting, and the overall look of the pages. That's where themes come in.
Today I'm going to tell you About the GeneratePress WordPress Theme. We'll discuss why we care about themes in general, what makes GeneratePress so special, and how well it works with page builders (such as Elementor). We'll also see if upgrading to the Premium version is worth the investment and wrap it all up at the end.
Let's jump right in…
THIS POST MAY CONTAIN AFFILIATE LINKS. PLEASE SEE MY AFFILIATE DISCLOSURE FOR MORE INFORMATION.
Why Care About Themes in General?
Themes are an essential part of a WordPress site. Think of them as your website framework. Their primary purpose is the overall design, look, and functionality. There are thousands to choose from to fit virtually anyone's needs. From bakeries, construction companies and gyms to educational institutions, photography sites storefronts and more; there's bound to be a theme out there that will meet your needs.
Some themes simply address site appearance where others include functionality options such as offering social media sharing or follow icons, and so on. Many are offered free of charge but some you have to pay for. Most come in both forms, and the pay-for version usually provides more options that were left out of the free one.
In the end, think of a theme as the foundation on which you build your website. Don't be too worried if it has almost everything you need or if it offers way more than you need. You can customize themes quite a bit and add/remove functionality via CSS or plugins. The most important thing to consider when picking a theme is selecting one that will give you the basic look and functionality you desire.
What's So Special About the GeneratePress WordPress Theme?
There are other considerations, besides look and functionality, when it comes to selecting a theme. Of utmost importance these days is speed and compatibility. Let's take a look at what WordPress has to offer…
Looks
GeneratePress gives you great flexibility when it comes to designing the look of your website. Images, text, columns, and so on can all be used with this theme. You can even import templates for GeneratePress and then customize them to fit your actual needs. Here's an image showing three distinctly different looks and the default look, out-of-the-box.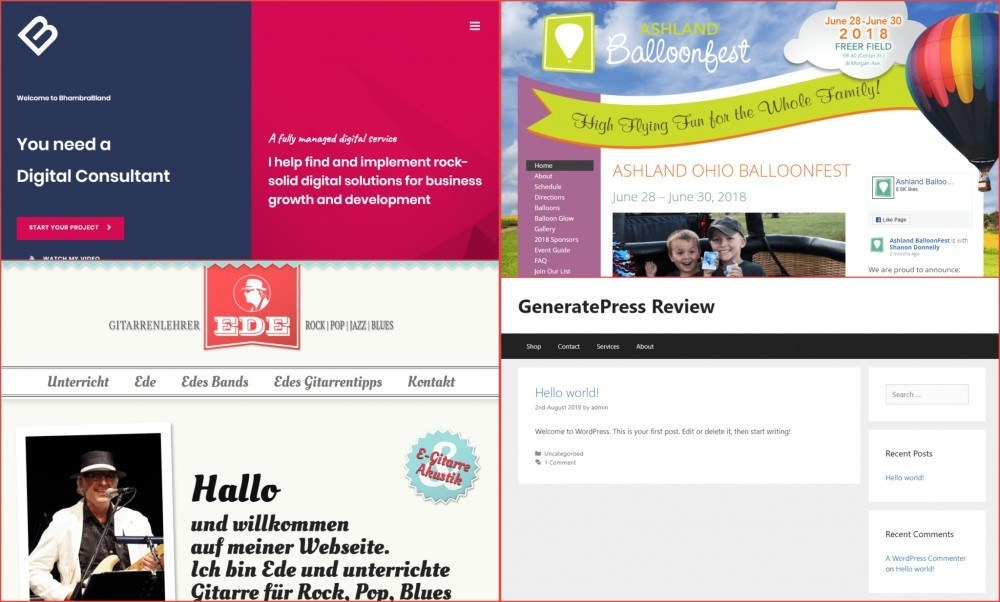 Speed
Looks are important, after all, who sticks around on websites that look terrible or have an awful navigation setup? Still, if a page isn't loading quickly, many will opt to move onto the next site vs. waiting. In fact, the search engines know this about their client base and will consider loading speeds when calculating site and page rankings.
This is one of the main reasons I recommend GeneratePress. This theme is very lightweight and boasts impressive load times when tested using website speed test tools.  Here's a screenshot of the out-of-the-box with all Premium features activated speed test.

Compatibility
The GeneratePress theme is what is called a responsive theme. This means it's mobile-friendly. In reality, it means that the theme is designed to work with devices of multiple resolutions and feature sets. As such, responsive sites should work well on virtually any device.
This is another factor the search engines take into account when calculating rankings for posts and pages.
Feature Set
Themes vary when it comes to features and customization. GeneratePress does not disappoint in this regard.
You can customize your container settings, header, navigation options, sidebars, footer, and more. What's even more impressive is the control you have over typography. Customize text for the body, header, navigation, buttons, headings, widgets footers, and so on.
As if that weren't enough, you get page-level settings to adjust what gets displayed and the layout to use when it comes to sidebars, footers, headers, navigation, etc.
GeneratePress does check all the essential boxes, and that's what makes it so special. Functionality, speed, compatibility, it's all there!
Does it Work Well With Page Builders?
Although I didn't list it above, another compatibility factor to consider is that GeneratePress is compatible with page builders. A page builder is a tool that lets you design your pages using various widgets or elements and whatnot to create the perfect look. Some even offer special effects like sliding or fading into position, etc.
One of my favorite page builders is Elementor. It offers both a free and pay-for version. The free version gives you quite a bit to work with, and there are many add-ons for this page builder available to add even more functionality. GeneratePress is fully compatible with this page builder and is even listed on the Elementor website as one of the recommended themes to use with it.
There are many other page builders to choose from that GeneratePress is compatible with. I recommend that you check them out to see which one fits your needs the best as each one offers something unique.
Is the Premium Version Worth the Cost?
So, as I mentioned before, many themes come in free and pay-for versions. GeneratePress is one such theme. The free version does give you quite a bit to play with, but the pay-for option gives you so much more.
To make this post a bit easier to read, I'm only going to include a screenshot for every other feature listed in this section. Let's take a look at what you get if you go Premium…
Import/Export
Do you run multiple sites? Are there common settings between them? Import and export your GeneratePress theme options easily using this module.
Site Library
This module is what provides demo sites for importing. Site Library allows you to import a demo site and then use that as your base to customize for your needs.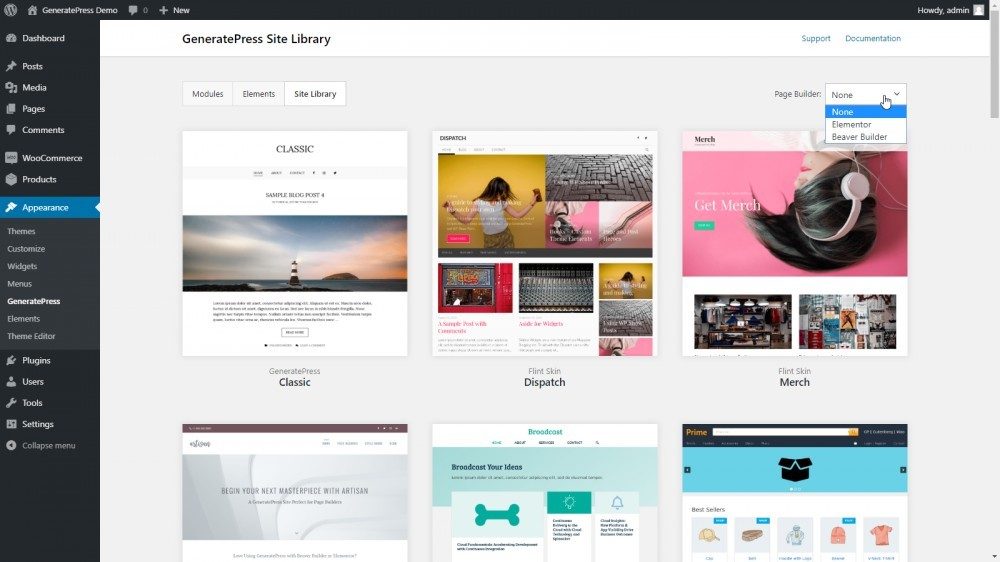 Colors
Text, links, background colors, etc., this module provides amazing color customization for your website. It even allows for transparency control!
Typography
This feature provides complete font family control. Adjust sizing, weight, style, and so on.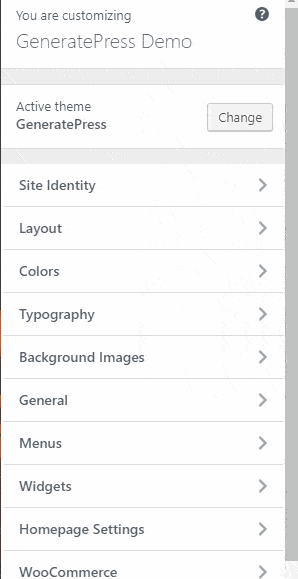 Elements
Create amazing dynamic page heroes, take advantage of the advanced hook system, or apply custom theme layouts using display rules.
WooCommerce
GeneratePress can enhance your WooCommerce store. Color, typography, and layout can all be adjusted.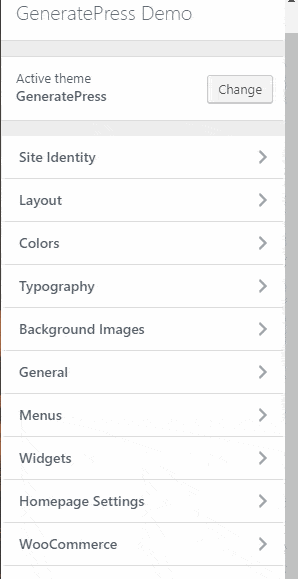 Menu Plus
Navigation is crucial. This module allows for sticky navigation, off-canvas navigation, mobile headers, and more.
Blog
Columns, infinite scroll, featured image control, masonry, etc. Truly customize the blog experience for your visitors.

Secondary Nav
Most sites have a single navigation system. This module allows for a second. This can provide your clients with a more pleasant experience when it comes to navigating your website.
Sections
Yes, GeneratePress has a small built-in page builder. If you're not considering another page builder, such as Elementor, or if you need a simple, specific feature that the built-in builder can provide, this premium module might be just the thing you were looking for!
Spacing
Size, padding, and margin control are all possible with this feature.
Disable Elements
With most themes and plugins, it's all or nothing. This can lead to loading unnecessary widgets and elements, slowing down the overall page speed. That's not the case with GeneratePress Premium. Disable off various theme elements on pages of your choosing.
Copyright
Many themes have their little disclaimer, and ad tag displayed. This module allows you to remove or customize it to your liking.
Backgrounds
Now you're not just limited to the header, footer, and full-page backgrounds. You can set backgrounds for virtually any site element.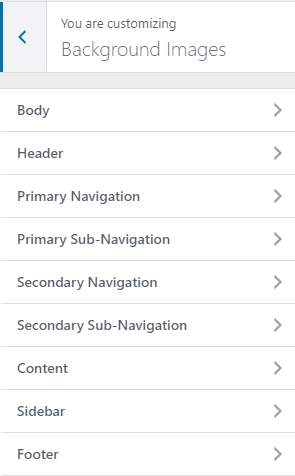 As you can see, upgrading to Premium offers quite a bit. Frankly, if you need just one of the features listed above, it's worth the upgrade.
Let's go ahead and wrap this review up and summarize my overall opinion on the GeneratePress theme…
Conclusion
As you can probably tell, I'm a big fan of the GeneratePress WordPress theme. Still, there are other things to consider before making your decision…
Additional Compatibility
I already talked about responsive design and page builder compatibility, but I didn't touch on compatibility with WordPress plugins. There's nothing to worry about here, GeneratePress is fully compatible with all the major WordPress plugins currently available. Check out my WordPress Plugins | 20 Great Free Options I Use on My Sites post for a list of some plugins I recommend.
Education and Support
I wanted to let you know that there's both excellent documentation and a video library that will show you everything you need to know about GeneratePress.  That said, support is top-notch, and there's a huge community to help out as well.
All-in-all, you really can't go wrong with WordPress. It's fast, compatible, and highly customizable. I dare to say that it really is a one-stop-shop.
The best part of this is the pricing and licensing scheme. When you buy GeneratePress Premium, you're not limited to a certain number of websites. Many themes have a limit as to how many sites you can use them on. That's not the case here.
Better yet, when you do pay for the Premium upgrade, even if you don't renew it after its expiration date, your site will continue to function with all the Premium features still intact. That said, if you want to continue to receive upgrades and updates, you'll get a 40% discount on renewing your subscription.
Personally, I think that's worth it. At the time of this writing, the Premium license was running $49.95. With your 40% renewal discount, your renewal would be $29.97. $30 per year for a theme you can use on unlimited sites is a no-brainer for me.
If you think GeneratePress is the theme for you, log into your WordPress site dashboard, download and activate the theme. When you're ready to go Premium, follow this link here and make your purchase. The upgrade needs to be installed as a plugin, not as a theme. This will enable all the features listed above.
If you're just getting started with your blogging site, and even if you're a seasoned veteran, check out my 3 Tips on Writing a Blog for Your Website post for some great blogging tips. Also, if you're looking to learn about building a website, starting an online business or considering website hosting options, check out my number one platform recommendation by clicking on the banner below.

Now that you know About the GeneratePress WordPress Theme, I'd like to hear from you… Are you a current GeneratePress user? If so, did you stay with the free offering or go with the Premium license? How do you like the theme overall? Is there a feature, pro or con that I missed, but you think should be included in this review? If you're not a GeneratePress theme user, are you considering making the switch to GeneratePress? I'd love to hear what you have to say. Please let me know by commenting below.
Thank you,
Scott Hinkle
SmallOnlineBiz.com