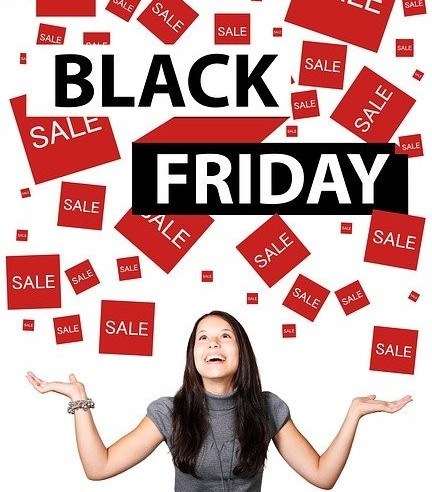 I don't usually do a holiday sales type of post, but I figured I was overdue, and there's actually a lot of significant savings to be had this holiday season. So, with that said, here's some of The Best Black Friday Deals For Your Online Business…
Today, I'm going to point out the deals I think are the best ones out there for anyone running a small online business. I'll even go as far as to say that these deals would be excellent for anyone running a large online business too. What I'm trying to say here is: "If you're running an online business at all, or are planning to, you should check out the deals below. There's bound to be something there to help you start or grow it."
Today's post will cover all sorts of deals. Are you looking for a mailing list or autoresponder platform? We have you covered. Do you need to find the perfect WordPress theme? We have some great ones listed here as well. How about content creation? I'm talking stock imagery, graphic creation platforms, spelling and grammar checking, etc. That's also covered here. How about general business needs? Do you need training, hosting, access to research platforms, etc.? Guess what? We got those too!
By the time you've finished reading this post, you'll have a great list of specials to choose from. Now, let's get started…
THIS POST MAY CONTAIN AFFILIATE LINKS. PLEASE SEE MY AFFILIATE DISCLOSURE FOR MORE INFORMATION.
The Best Black Friday Deals For Mailing Lists and Autoresponders
They say that a mailing list is vital to any online business. Guess what? They're right. I'd even go as far as to say an autoresponder is that much better. Yes, you can build a list and manually send stuff out, but when you add an autoresponder service to the mix, you can automate a lot of the manual process and save yourself time to work on more important things. Don't worry; you can still send out messages manually if you want to.
Here are five services to consider (Those listed are affiliate marketing friendly):
Aweber
Aweber is not offering a Black Friday deal, but they are one of the top-rated autoresponder platforms out there, and they do offer a free 30-day trial (even it if is available all-year-long). If you're looking for an autoresponder, Aweber should be on your list of potential solutions. Check it out here:

GetResponse
GetResponse is one of the first choices of many affiliate marketers and is definitely worth considering. Save up to 40% with their Black Friday special. Just be sure to hurry. It's limited to the first 1000 sign-ups. Click here to learn more.
TrafficWave
Now, this platform is relatively new to me. That said, I'm amazed at its potential and believe it's well worth a look. The secret sauce to this platform is its price. It's a flat $17.95 per month, period! That's right. If you have a list of one, it's $17.95. If you have a list of 1,000,000, it's still $17.95. That's simply amazing and unheard-of in the industry.
From what I understand, as I don't use this service myself, yet, it doesn't offer some of the more advanced bells and whistles of the more well-known platforms, but it provides excellent deliverability stats and has that fantastic price point. Check it out, especially if you have more extensive lists that are costing you an arm and a leg.
Click the banner below and sign up for the free 30-day trial:
Sendlane
Sendlane has been hitting all the top X lists this year and shouldn't be dismissed quickly. They have an excellent reputation and should be a contender in your search for the perfect autoresponder.
I don't have details on their Black Friday deal yet, but I will update this post as soon as I do!
My LeadGen Secret
Now, My LeadGen Secret doesn't have a Black Friday deal that I'm aware of, but they offer an excellent tool for those in the make money online niche and are relatively inexpensive, so I thought I'd list them here. I have a full review that you can look at here. If you do want to take advantage of their service, you can sign up by clicking on the banner below:

The Best Black Friday Deals For WordPress Themes
Let's face it; a big part of your website presence is its appearance. For those sites hosted on WordPress-based platforms, the theme you select plays a significant role in the overall success of your site. If it looks incredible and functions quickly and smoothly, you're going to retain visitors and attract return business. If not, you're wasting your time.
Here are some great themes to consider when building a WordPress-based website. This list is by no means a comprehensive one but rather my top choices. Let's take a look at five great options…
GeneratePress
As you know, GeneratePress is my top pick when it comes to WordPress themes. It's amazingly customizable, has a small footprint, is fast, and just works. Top it off with excellent Elementor compatibility, and you can't go wrong with this one. Check out my detailed review here.
GeneratePress offers a pretty good deal every year for Black Friday. This year is no different. Check it out and grab the Premium upgrade at a great price. When the sale goes live, you can take advantage of it here.
Divi
Now, Elegant Themes claims that Divi is "The Most Popular WordPress Theme In The World," and they might be right. Once you've done your research, if Divi seems to be the theme/page builder for you, head on over to their site here and take advantage of their specials by clicking the banner below:

Astra
If you've been searching for terms like "Best WordPress Themes of 2019" or something similar, chances are Astra, along with most of the other themes I've listed here, has been on most of the lists. This is with good reason. It's fast. It's highly compatible and offers a professional look.
If you're considering the Astra theme, pick up their Black Friday deal here.
Ultra
Ultra is one of the top, if not the top, themes from Themify. It's suitable for most general sites and e-commerce. In year's past, Themify has had Black Friday deals, and I suspect there will be another this year. Until its officially announced, all I can provide you is a link to their site here. Check back to see what they have in store for the holiday sale.
OceanWP
OceanWP is another unique and popular theme out there. It was my go-to for quite some time before I moved to GeneratePress and Elementor Pro. Offering speed, compatibility, and professional layouts, you can't go wrong with this one.
This is another one that I don't yet have the Black Friday info on. As soon as I do, this post will be updated, so check back.
The Best Black Friday Deals For Content Creation
What's that saying? Content is King! Content is what drives people to your site in the first place. If you have a lackluster website or less than quality content, you're going to lose visitors and certainly won't attract return visits. The following five tools can help you build that quality content:
Elementor Pro
So, I started with the free version of Elementor, and I loved it so much that I upgraded to the Pro version. It's simply amazing. You can pretty much create any site you want using this page builder. I highly recommend it. Do yourself a favor, click on the banner below, and give the free version a try. If you don't love it, no harm was done but, if you do, grab that Pro upgrade for 30% off and start building the site you want!
Beaver Builder
When it comes to site builders, there are only 3 top contenders. Beaver Builder is one of them. With a vast library of templates and precision layout, you can't go wrong.
Check them out here.
Thrive Architect
I had to include Thrive Architect in this list because it's a very popular site builder, especially for those employing funnels and whatnot. That said, Thrive doesn't do a Black Friday or Cyber Monday sale. They do something more meaningful, in my opinion.
Last year they donated 50% of all revenue from new membership sales to a worthy cause. In this case, it was Kiva. That says a lot about the company. They didn't make more profits by lowering their prices to get more buyers; they shared their profits to make the world a better place.
I'll provide a link shortly to their offerings, so be sure to check back.
Canva Pro
Let's face it, as a site owner; you're going to need to create various banners and graphics. Canva is a fantastic tool for that and so much more. Create artwork for your web pages and email lists. Need an icon? Canva can help you with that too.
I use Canva quite a bit and can honestly say its one of the unsung heroes of my websites. Check it out for yourself here.
Adobe Products
Adobe has pretty much cornered the market when it comes to media in general. Photoshop and Lightroom are the default apps for photographers. Acrobat makes creating portable documents a breeze, and Premiere is a fantastic video editing platform. All that and I haven't even touched on their stock image offering or any of their other products and services.
Whatever your media needs, Adobe has a solution for you. I, myself, like the Adobe Cloud suite. If offers me everything I need in one convenient monthly (or annual) subscription, and I never have to worry about buying the next update as all updates are included.
Check out the Adobe Creative Cloud apps and suites here!
The Best Black Friday Deals For Your Business In General
Some business necessities don't fall into a specific category or even fall into multiple categories. That's what this section is all about.
I know that the previous sections of this post offered five options each, but this one only has three. That said, those three deals provide multiple features and advantages, making them more like ten plus options. Let's take a look…
Wealthy Affiliate
As some of you may already know, Wealthy Affiliate (WA) is my number one recommendation for anyone starting an online business. It offers training, hosting, content creation, statistics and tracking tools, keyword research, and so much more. I can keep going on but check out the following posts for more details:
Is Wealthy Affiliate Legitimate?
Wealthy Affiliate Added an Awesome New Tool!
You get the idea. At any rate, WA is offering a great Black Friday deal on their annual Premium membership. I took advantage of it last year and its the best deal you can get. The usual monthly subscription rate is $49 per month. You can cut it down a bit by going with a 6-month subscription and even more by going with an annual one, but nothing touches the Black Friday annual deal.
At $299 per year, you're saving $289! That's 49%! Not only that, you lock in the annual savings. Each year's renewal rate will be locked in at $299. That's less than $25 per month or $0.82 per day. Do yourself a favor and take advantage of the deal while you can (November 29th through December 2nd, 2019).
BTW – If you take advantage of the Black Friday special, you'll get the following bonuses as well:
Bonus #1: The Path to Affiliate Stardom in 2020 – Kyle Goes AMA (Ask Me Anything) – Live Class
Bonus #2: Building an Incredible Internet Business in 2020, The WhitePaper.
Bonus #3: Creating a Thriving Authority Website in 2020 (5 Weeks of Live Training)
Bonus #4: Early 2020 Beta Access to New Platforms (Yearly Members Only)
Just in case you missed the three links above, here's a banner to click on:
Grammarly
At some point, you're going to write a post, page, or article for your site. Grammarly is a fantastic tool for such times. Look at this site here. I try to publish one, if not two, post(s) per week. Grammarly will check spelling, punctuation, grammar, suggest alternative words, and so on. That in itself isn't special, but it does it very well, and I'd argue better than any other solution out there.
The one thing that made going with Grammarly a no-brainer for me is the plagiarism checker feature. I try to write original content but, believe it or not, now and then I find that my content can be eerily similar to something else on the net. Grammarly catches that and lets me know before I publish so that I can make any necessary changes.
As you've probably guessed by now, since I use Grammarly, I've reviewed it. You can check it out here. If you decide that Grammarly is for you, BTW – They offer a free version, so at the very least, you can grab that and check it out for yourself.
Now, I've heard rumors of 55 to 60% savings between Black Friday and Cyber Monday, but I haven't been able to verify them. Either way, follow this link during that time to get the best deal possible.
Small Online Biz
Of course, I'm going to promote my own website. Guess what? I don't have a Black Friday special but, then again, I don't charge for anything on my site anyway! No link or banner required as you're on my website now! Still, if you want to feel like you're getting a Black Friday deal, here it is! For a limited time only, access all the resources available on this site absolutely free! Hurry as this deal won't last long.
Please come back here to see new reviews, products, and solutions to help you with your online business endeavors. I strive to produce quality, relevant content to help you make the right decisions to grow your business.
Conclusion
OK, I may have been slightly misleading in my title, The Best Black Friday Deals For Your Online Business. Not all products and services listed here offer a Black Friday deal, but they are all at the top of their class, offering fantastic features that no business should do without.
Do yourself a favor and take a look at what they have to offer. Compare them against one another to see which one(s) meet your needs the best. Once you have an idea of which solutions are right for you, follow the links provided and check them out.
Now, I'm sure I've missed someone somewhere. That said, do you have a comment or opinion you'd like to share here? Did I miss a product or service you think should be included? Do you happen to use one or more that I've listed here and would like to share your thoughts? Do you have more information on the Black Friday deals listed above? Please, let me know by commenting below.
Thank you,
Scott Hinkle
SmallOnlineBiz.com